Making yellow and black dreams come true
Our personal miracle of Bern happened when BSC Young Boys hired us for the redesign of their website. As big football fans, it was a matter of the heart for us to help the biggest club in the region to an appropriate appearance. We accompanied the entire design process from the conception to the interactive prototype.
Hopp YB!
Football is a sport that is characterized by great emotion. The club has a huge pool of images and videos that draw the viewer right into the action. The website gives these moments a lot of space to infect even the last visitor with football fever.
One website for all the fans
Whether long-time supporters, young fans or business partners, the website of a major football club has to organize a variety of content for a wide range of target groups. To guide visitors efficiently, we developed a user-centric site structure in close collaboration with the club. As a central design element, we introduced a sidebar navigation that provides orientation at all times.
It's a Matchday!
The absolute highlight of every week for YB fans is Match Day - also on the website. Whether on the computer or on the smartphone: The Match Day mode offers all information about the next match and increases the anticipation with the countdown. From kick-off, Newsroom's Match Center provides all those at home with live radio, a ticker and photos directly from the stadium. Match reports and picture galleries let you relive the best moments afterwards. It's great to be a fan!
Information overload desired
As a football nerd, you always want to know exactly. How many assists did Kevin Mbabu have last season? How tall is Steve von Bergen? How many games until the championship? On the Young Boys website you can find match schedules, statistics, squad info and much more. Even football historians will get their money's worth.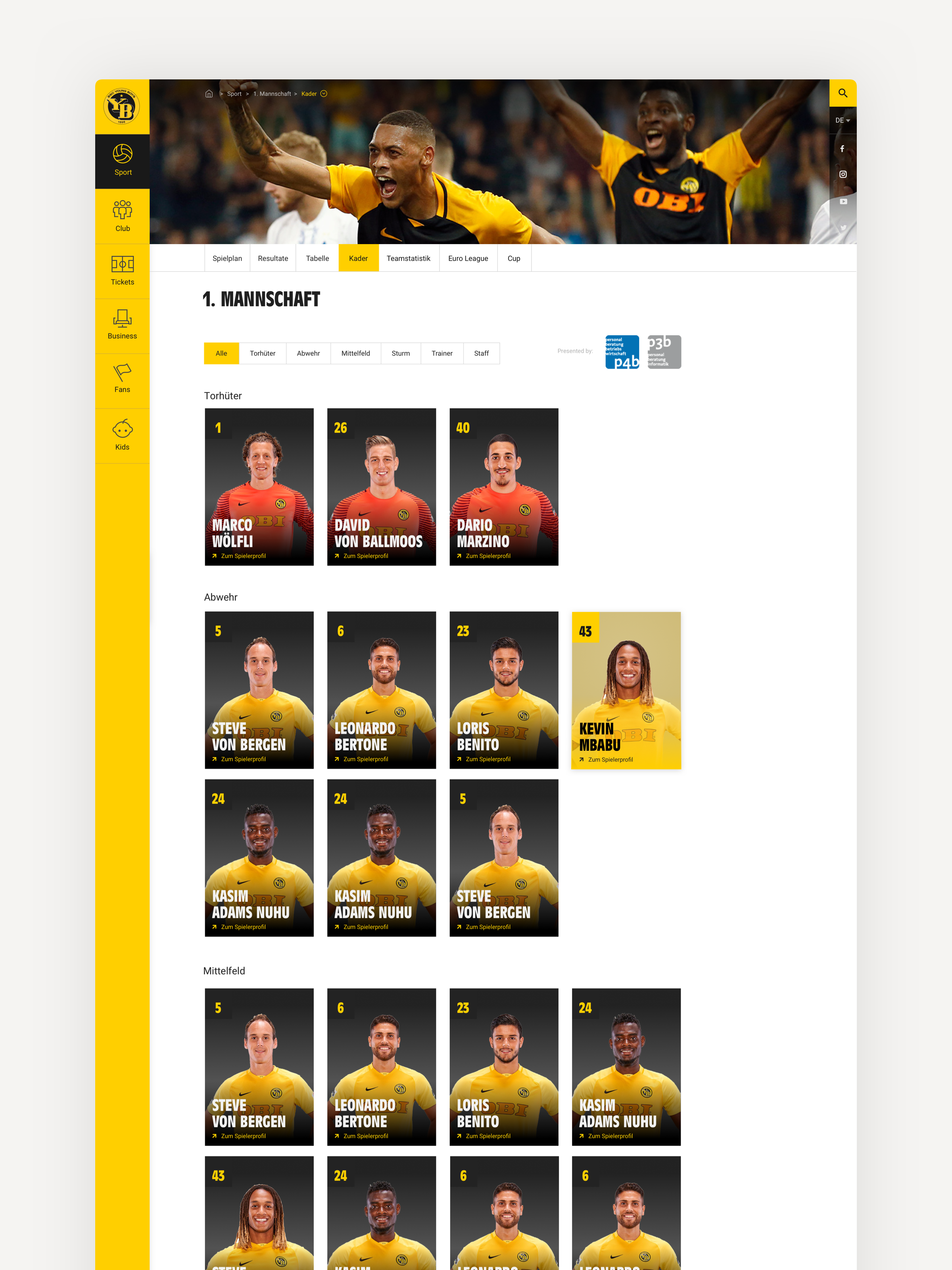 Would you have known?
We want all YB fans to get along. When at the next football regulars' table there is again an argument about who scored the goal against Real Madrid in the 1986 Champions Cup: Here is the answer.
Services
Information Architecture, Workshops, UX/UI Design, Prototyping, Newsletter
Partners
Art Direction: Sebastian Hirn, Development: Extern